Depart from the ordinary. Rent a classic trolley for your next event.
We offer the most special trolley experience in the Los Angeles area.
Our classic trolleys seat up to 35 adults and are fully equipped with air-conditioning and heating. All guests on our trolleys enjoy the atmosphere created by our friendly drivers, custom wood interior seating, and surround-sound speaker system.
Rent a classic trolley for your big wedding day!
Add charm to your big day by traveling to your ceremony aboard an elegantly-styled wedding trolley. The entire bridal party can ride together, making your arrival to the chapel, photo site, and reception even more memorable. Our classic trolleys are perfect for candid wedding group pictures. 
You may have family and friends arriving from all over the state, or even the country. Many of these people may be unfamiliar with the area; so let us be your designated driver, helping your family and friends get to the wedding ceremony and back safely to the hotel after the reception.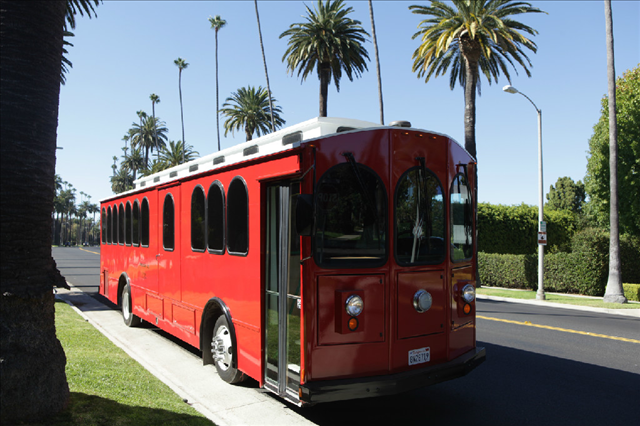 At vero eos et accusamus et iusto odio dignissimos ducimus qui blanditiis praesentium voluptatum deleniti atque corrupti quos dolores et quas molestias excepturi sint occaecati cupiditate non provident, similique sunt in culpa qui officia deserunt mollitia animi, id est laborum et dolorum fuga. Et harum quidem rerum facilis est et expedita distinctio.
Nam libero tempore, cum soluta nobis est eligendi optio cumque nihil impedit quo minus id quod maxime placeat facere possimus, omnis voluptas assumenda est, omnis dolor repellendus. Temporibus autem quibusdam et aut officiis debitis aut rerum necessitatibus saepe eveniet ut et voluptates repudiandae sint et molestiae non recusandae.
Sed ut perspiciatis unde omnis iste natus error sit voluptatem accusantium doloremque laudantium, totam rem aperiam, eaque ipsa quae ab illo inventore veritatis et quasi architecto beatae vitae dicta sunt explicabo. Nemo enim ipsam voluptatem quia voluptas sit aspernatur aut odit aut fugit, sed quia consequuntur magni dolores eos qui ratione voluptatem sequi nesciunt.